SayariLabs and EnduroSat sign a commercial agreement to launch TAIFA-1 ("one nation" from Swahili), first Kenyan 3U software-defined NanoSat.
TAIFA-1 will get to orbit on SpaceX`s Falcon 9, the planned launch is scheduled for Q4 2022.
In the past decade East Africa has been hit with heavy droughts and wildfires, causing water crisis, and damages of local agriculture and food supplies. TAIFA-1 will be loaded with hyperspectral, Earth-observation camera that will empower customers with environmental, wildlife, agricultural monitoring, and land use mapping, in their mission of preventing the calamities in the region.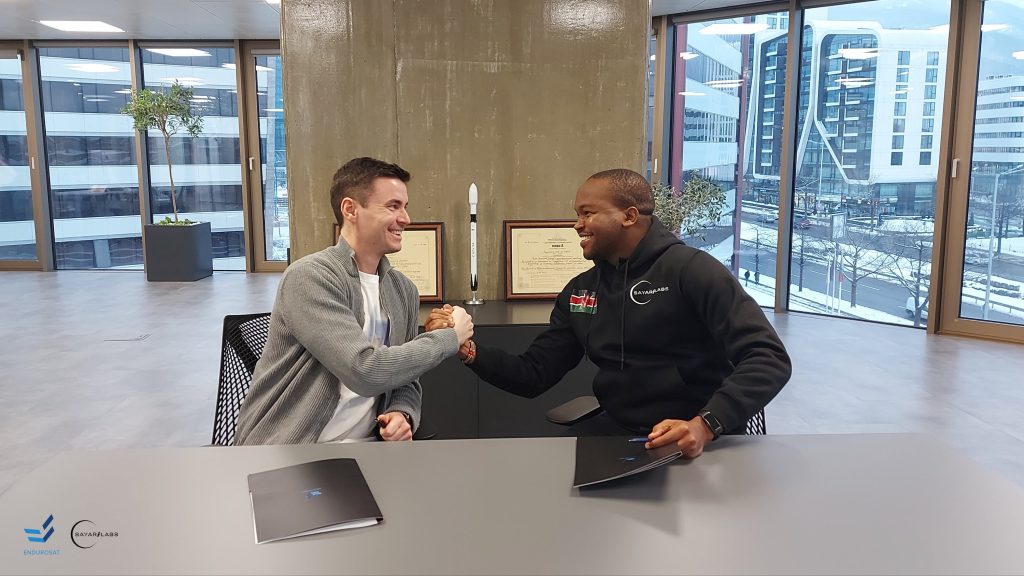 EnduroSat and SayariLabs signed MOU, which is another milestone for the successful partnership and upcoming joint space projects of the two companies. EnduroSat organized two-week educational training, dedicated to space systems and engineering, covering all aspects of mission analysis, design, and space craft assembly for the engineering team of SayariLabs.
Over the past decades, space and satellite industries have been reserved for the wealthy and mighty. SayariLabs is on a mission of democratizing these industries for all interested players in the African region and in making Kenya a space giant in the next generation. With the advancement of technology this fantasy is quickly becoming a reality. Our partnership with EnduroSat, a leading company in this industry, is a major game-changer and it strengthens our hope and belief of being a major space and satellite solution provider in Kenya, the African region and other parts of the world.
Aaron Nzau, Founder & CEO SayariLabs
I am really proud to have the opportunity to support SayariLabs in their efforts to bring space closer to thousands of people in Kenya. Working alongside their team has been an amazing experience for us and I cannot wait to see the innovations and the positive impact that they plan to have, realized in practice. EnduroSat has been for long time a true believer in open, responsible and accessible space and this is yet another step in this direction.
Raycho Raychev, Founder & CEO EnduroSat